From the Sunday Times, Sri Lanka:
Taking the message of reconciliation forward
When U.L. Ali Zakky and Ishan Jalill got on stage at the MAS Institute of Management and Technology auditorium in Thulhiriya last week, in the hope of delivering a combined motivational speech cum discussion, the members of the audience, and in turn, the speakers themselves, got a lot more than what they bargained for. Practically every single sentence uttered by them was greeted with tumultuous applause by the capacity audience, comprising mostly of school children in their late teens. Such was the inspiring power of their words.
The discussion was part of a five-day event organised by Sri Lanka Unites, titled the Future Leaders' Conference (FLC) that saw the participation of five hundred youth leaders from various religious and ethnic backgrounds from all over the country.
Zakky, a wheelchair bound (sic) graduate and activist, and Jalill, a younger undergraduate and also an activist who was born blind, spoke about how they fought through the hurdles of life, despite their disabilities and emerged stronger and victorious.
Jalill, who studied up to his O/Ls at the Blind School, was qualified to study for his A/Ls at St. Thomas' College, Mt. Lavinia and went on to be enrolled at the Colombo University. He was also an active member of the St. Thomas' rowing club, probably the world's only born-blind person to have successfully taken up this demanding sport. As an activist, Jalill has gone as far as the United Nations to help Sri Lanka implement pacts signed guaranteeing the rights of the disabled. Zakky is the Manager of Advocacy and Campaigning at the LC Disability Resource Centre, Sri Lanka. He recounted how, as a 17-year-old boy who had just got started on his A/Ls, an unfortunate incident robbed him of his ability to walk. But that never stopped him from achieving his goals. He too, like Jalill, studied hard and received a university education and is now a far more able man most abled people among us.
"If there is something you want to do, just go for it," said Jalill to the eager audience as they gave the duo a standing ovation.
The FLC, for the second year running, brought together school children between the ages of 15 and 18 from 60 schools, scattered across the 25 districts of the island, including Kilinochchi and Mulaitivu.
Jayantha Dhanapala, Former U.N. Under Secretary General and Head of Sri Lanka Unite's Board of Trustees who spoke at the conference said the youth of Sri Lanka could do much to take the message of reconciliation forward.
"The emergence of an organization such as Sri Lanka Unites, which promises to restore the "youth voice" in advocating conflict-transformation, is truly admirable. I am pleased to be closely associated with Sri Lanka Unites, a youth movement intent on promoting nationwide hope and reconciliation. The youth present a viable solution for Sri Lanka's future. Young people should be encouraged to take the lead in championing the cause of reconciliation in our communities and I am glad that Sri Lanka Unites has taken on this challenge," he said.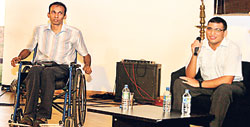 This year's conference, which included cultural shows, sporting events, games, and other such activities specifically developed to hone leadership skills, saw participants divided into teams with catchy names like the Batticaloa Bandits or the Colombo Chargers who competed against each other in friendly rivalry, but in such a way that it promoted harmony and togetherness. Several guest speakers, both local and foreign, held workshops on various topics such as media, peace and reconciliation.
Some of the activities included music, drama, forum theatre and art. The conference also facilitated small discussion groups between students from different ethnic backgrounds, with the objective of ridding themselves of negative stereotypes and cultivating mutual respect.
All students who took part at the FLC were awarded full scholarships to attend the five day residential event.