From: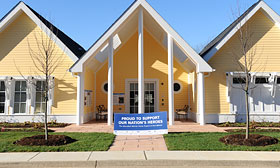 The U.S. Army, a Virginia realty firm and architect Michael Graves have joined forces to create a new kind of accessible home for injured veterans.
The Wounded Warrior Home Project is building homes for wounded soldiers who stay in the service at Fort Belvoir, Va. But before embarking on the project, the partners decided to take a new look at what accessible means.
They started with universal design principles and then took them a step further to design a home that was convenient for people with varied disabilities as well as their able-bodied family members.
More:
http://realestate.msn.com/blogs/listedblogpost.aspx?post=52778c34-f812-4546-96b7-2f0bd51e411a